Overview
This guide explains how to upgrade from Graphcool to Prisma 2.
Note: The Graphcool servers have been shut down on July 1st 2021. Please reach out to us if you have any further questions.
Migration path
On a high-level, the migration path from Graphcool to Prisma 2 looks as follows:
1. Create a SQL dump of your Graphcool project
Open the Graphcool Exporter at https://export.graph.cool/.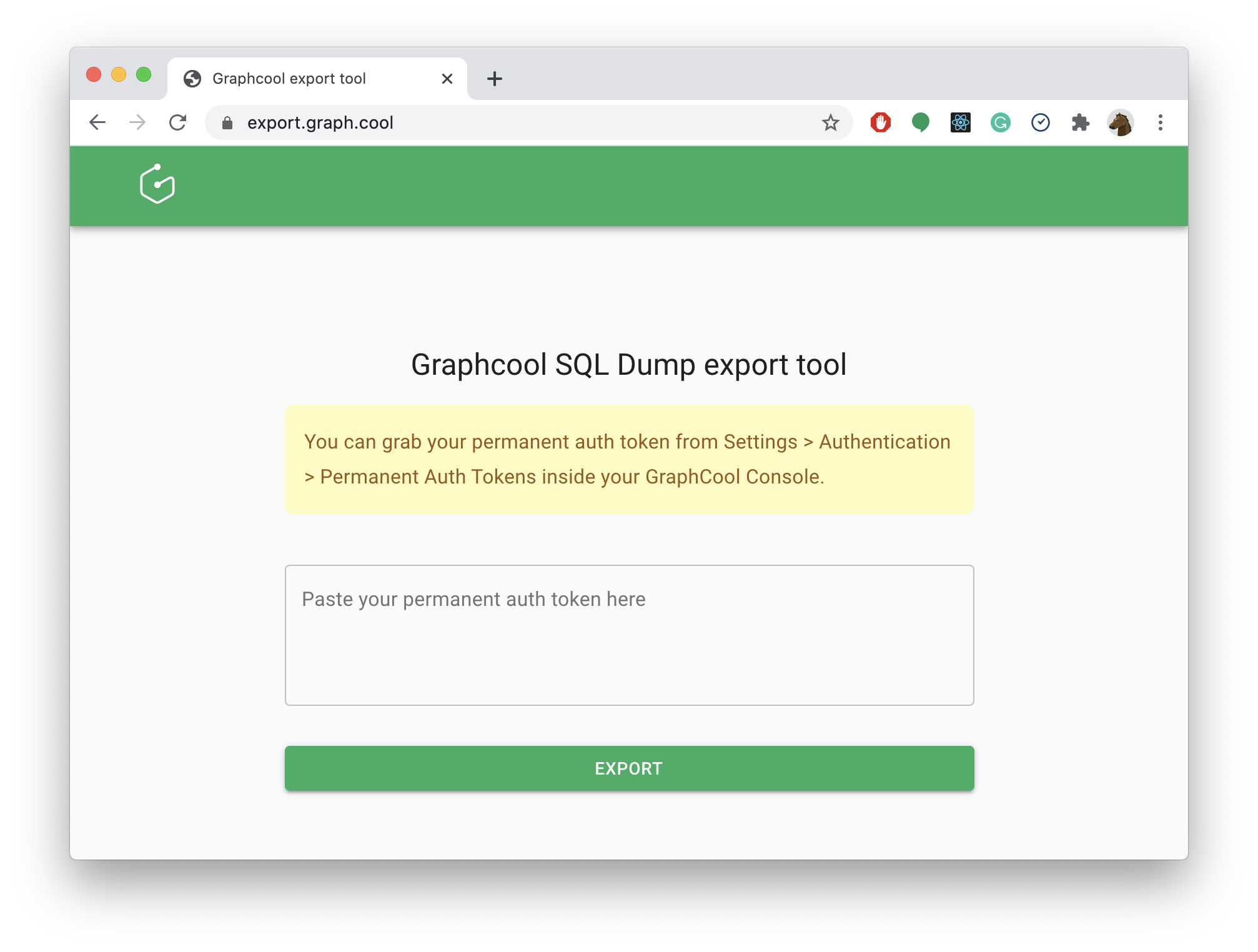 Then grab your permanent auth token from the Settings > Authentication > Permanent Auth Tokens area in the Graphcool console and paste it into the text field. Now click Export.
This downloads a zipped .sql file with a dump of all the data that's stored in your Graphcool project.
2. Import the SQL dump into your own MySQL database
Follow the guide that explains how to import data into a MySQL database.
3. Introspect your database with Prisma 2
At this point, you have a MySQL database with the same data that you had in your Graphcool project. You can now setup your new npm project that you'll use to implement the GraphQL API:
With your new npm project in place, you can follow the guide that explains how to add Prisma to an existing project.
Note that Graphcool uses the same data modeling approach as Prisma 1. If you encounter any schema incompatibilities, you can resolve them in the same way as if you were upgrading from Prisma 1.
4. Create CRUD GraphQL API
The last step in the migration process is to expose CRUD operations in your GraphQL API. The recommended approach for this is to use Nexus and the nexus-plugin-prisma. The plugin allows you to directly expose your Prisma models via GraphQL.
Once you installed the required dependencies in your project, you can add the nexus-plugin-prisma as follows:
import

 

{

 use 

}

 

from

 

'nexus'

import

 

{

 prisma 

}

 

from

 

'nexus-plugin-prisma'

use

(

prisma

(

{

 migrations

:

 

false

 

}

)

)
The last line gives you access to the t.model and t.crud fields when defining your GraphQL schema with Nexus. Both fields enable you to
Here is an example, assume you have the following Prisma schema:
4

  Post

 Post

[

]

 

@relation

(

references:

 

[

id

]

)

10

  createdAt

 DateTime

   

@default

(

now

(

)

)

12

  published

 Boolean

    

@default

(

false

)

14

  updatedAt

 DateTime

   

@default

(

now

(

)

)

15

  Category

  Category

[

]

 

@relation

(

references:

 

[

id

]

)

22

  User

 User

?

   

@relation

(

fields:

 

[

user

]

,

 

references:

 

[

id

]

)

30

  role

     User_role

?

 

@default

(

CUSTOMER

)
Here's how you can ensure all your models are exposed via GraphQL:
Finally, you can expose CRUD operations for all your models via t.crud when defining your Query and Mutation types with Nexus. For example, if you want to enable all the CRUD operations for the User model, you can do it as follows: