Introduction to database replication and its benefits
Introduction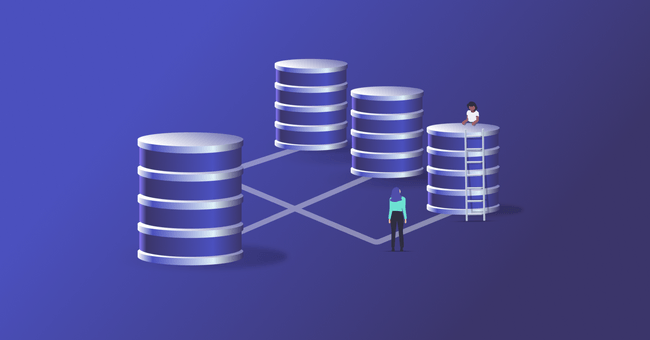 For many modern day applications, their backend is configured using a distributed database. Data is stored and processed using an arrangement, or cluster of database servers, instead of relying on a single database server. The distributed model can ensure that data is still accessible even if one of the database servers suffers a failure. However, the distributed approach introduces the issue of making sure that all of the actors in the distributed system are up to date with the information that the end user is expecting to have returned to them. This introduces us to the topic of this guide: database replication.
In this guide, we will cover what database replication is and discuss the main benefits of having a database replication process in place for your distributed system.
What is database replication?
Database replication is the process of maintaining a copy of data on multiple machines that are connected via a network. The process can be visualized like the following, where a lead database is sending its information to followers to replicate:
This image displays a specific kind of database replication architecture, but replication can also be done in different ways. The main goal is always the same, and that goal is to keep multiple, identical copies of up to date data in different places.
Benefits of database replication
As briefly alluded to in the introduction, there are several reasons why one would want to have a distributed database and therefore implement database replication. Some of the most common benefits include the following:
improve the availability of data
increase the speed of data access
enhance server performance
accomplish preparation for disaster recovery
improve analytics
Wrapping up
Database replication is an important process to implement for a successful distributed data system. In this article we briefly introduced what database replication is and the benefits it adds to your new or already existing application.
Database replication is not a one size fits all process, so it is important to know what benefits are most important to your team when configuring. We'll take the learned benefits and discuss the most common database replication architectures, methods, and types in additional guides.
RELATED ON PRISMA.IO
To perform database migrations with Prisma Client, use the Prisma Migrate tool. Prisma Migrate analyzes your schema files, generates migration files, and applies them to target databases.
Prisma is an open-source database toolkit for Typescript and Node.js that aims to make app developers more productive and confident when working with databases.